Holistic Healing: Orange City Chiropractor
Develops Plan To Fit Your Body's Needs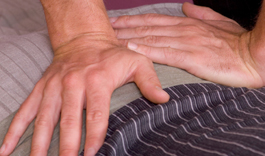 Chiropractic medicine has long been considered one of the most natural options for recovering from a traumatic injury. The concerted attention of a chiropractic specialist can often overcome the chronic pain the patient is experiencing through a tender mixture of technical knowledge and medicinal technique.

When looking for a chiropractor, finding one who is in tune with the potential benefits of holistic healing methods can help ensure your body gets on the right path to recovery. At Jordan Health Clinic, we specialize in providing well-rounded, holistic care in a relaxing spa environment. Our goal is for you to leave each session feeling refreshed and pain free.

Combining older, wiser healing methods like acupuncture and massage with the scientifically-proven benefits of expert chiropractic care can maximize the results your body feels. Contact us today to see how our relaxing treatments can help you fast-track your road to recovery.
Click here for more information on our Chiropractic Services.